Brief History of
THE SOCIETY OF THE MISSIONARIES OF ST. FRANCIS XAVIER 
(Society of Pilar)
Providence works in coincidences! In 1887, at the time the last Carmelite died in Pilar, a new Society was born 70 kilometers away in Agonda in Canacona Taluka. Fr. Jose Mariano C. Bento Martins from Orlim, Goa founded the Society of the Missionaries of St. Francis Xavier to cater to the predominantly non Christian areas of interior Goa (New Conquests of 1791). Patriarch D. A. Sebastiao Valente received the commitment of Bento Martins and his three companions on September 26, 1887.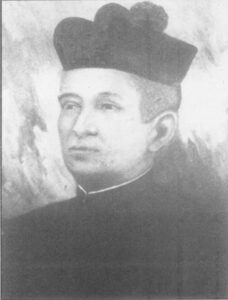 In 1890, The Archbishop Patriarch of Goa D. Valente made the decrepit Monastery of Pilar the headquarters of this Society and hence it received its new and more popular alias "Society of Pilar" and more popularly known as the Pilar Fathers.

This missionary society had churches and chaplaincies in Valpoi, Agonda, Shiroda, Sanvordem, Panchwaddi, Dabal, Colem, Molem in Goa and Monki, Kumta, Honnavar in Karnataka.

Pilar soon became a catechumenate and a centre for retreats for priests and laymen. Later laywomen were also invited for retreats. However the Society had very few members – 21 in all of whom 11 did their perpetual commitment. Besides the Portuguese government had a ban on religious orders till 1928. It could not survive for long and by 1938 only one member remained, Fr. Remedios Gomes who was also made the Parish Priest of Curca.
Pilar was once again on the brink of oblivion! 
But, said the saintly member of the society, Ven Agnelo D'Souza, "The finger of God is here"
A group of seminarians from the Rachol seminary were inspired to form a missionary society. From 1931 to 34 they discerned this idea, inspired by the example of St. Francis Xavier.
They called themselves the Xaverian League. They met with the Archbishop Patriarch Teotonio Vieira e Castro who advised them not to go for an entirely new society but rather to save the old and crumbling Society of Pilar.
The Leaguers started meeting in Pilar from 1936. Eventually only Fr. Conceicao Rodrigues and Fr. Francisco Sequeira remained as an inspiration to the Reorganised Society. The one survivor of the society Fr. Remedios do Rosario Gomes, joined them enthusiastically.
Fr. Manuel Jose Barretto, a Rachol Seminary Professor, was requested to be novice master and he too joined this group. Later Fr. Joseph Albuquerque, Fr. Teodolindo Cabral and two lay persons Peter Mascarenhas and Paixao Lacerda joined them.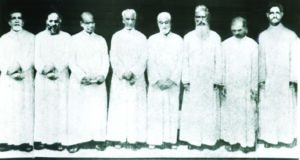 On July 02, 1939, on the feast of the Visitation, they assembled around the Blessed Sacrament in the Pilar Monastery Church and the Society of Pilar had its reorganization. Incidentally the same year, the mortal remains of Ven. Agnelo were transfered to Pilar on January 10, 1939.
Fr. Gomes was elected the Superior General of the Reorganized Society of Pilar on September 26, 1940. Fr. Jose Albuquerque went to Dapadda in Nagar Haveli in October 1940 to take up its first mission since reorganisation. 
Since then the Society has grown in leaps and bounds.
 
Click here for a Brief Overview of the Society
In the year 2010, the Society was raised to the status of  Pontifical Rite. Listed in the Annuario of the Vatican 2019 pg.1442
What does the Society of Pilar stand for? Read here