PILAR PILGRIM CENTRE
The Pilar Pilgrim Centre is a centre for evangelisation at Pilar.
(CLICK HERE FOR DETAILS OF THE APOSTOLATE)
The Pilar Pilgrim Centre aims to nurture relationships with all peoples, renew Christian life and re-evangelise Christians who are become indifferent to the faith, towards building the Kingdom of God of Harmony, Hope and Joy
Pilar has a long tradition of evangelising ministry, in keeping with its special call of giving Jesus to those who do not yet know him and to those who are indifferent to him.
There was a catechumenate in Pilar in the early 20 century.
It was followed by the Pilgrim House in the 1960s.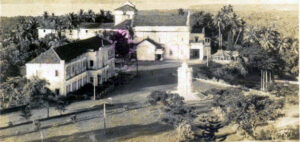 The Pilgrim House has been replaced by the Pilar Animation Centre since 1984.


This expansion of building and aposotolate was part of the Vatican II call for self evangelisation of the Church and a fresh thrust for evangelisation, especially  of cultures, as enunciated in Evangelii Nuntiandi . This is later called the New Areopagus in Redemptoris Missio.
The House is now known as the Pilar Pilgrim Centre. A place for rejuvenation of the body, mind and soul. It offers retreats, seminars, workshops and conferences. It provides, at a nominal rate, accommodation for people on a pilgrimage to Goa. It has excellent facilities and ambience for a memorable stay.
FR. LAWRENCE FERNANDES SFX is the Superior  of the House. He is the overall in charge and coordinator of all programmes in the House.
FR. JOSEPH FERNANDES SFX is the Coordinator for the Apostolate for Renewal of Christian Life and re-evangelisation.

FR ELVIS FERNANDES sfx is the Coordinator of Minstries for Building Relationships with all peoples and cultures.

MR HERLUINO CARVALHO is the Administrator of the House.
Contact:
Pilar Pilgrim Centre,
Pilar, Goa, India 403203
Mobile: 976 582 5988
Email: pilaranimationcentre@gmail.com